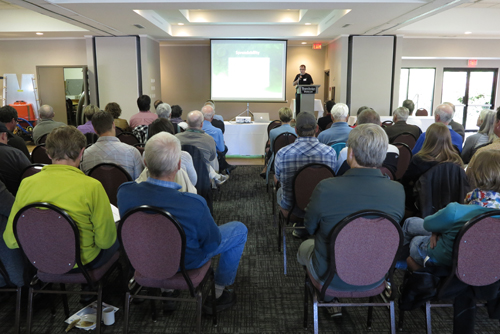 We are pleased to announce the 2018 WIGA Viticulture and Oenology Conference, and Island Wines Showcase, to be held on Wed May 16 at the Ramada Hotel in Duncan
All speakers have been confirmed and this year's event promises a valuable and motivating program! You can register for both the conference and the evening Island Wine Showcase at the bottom of this page.  Prices are the same as last year: $75 (WIGA member) or $125 (non-WIGA member) for the day, and $35 (members and non-members) for the Island Wine Showcase. Supplier tables are $50 (WIGA member) or $100 (non-WIGA member). If you haven't yet renewed your WIGA membership, it's easily done on our Membership Info page.
Program:
8:30-4:45 Presentations (see speaker list below)
4:45-6:00  supplier visiting, and chatting about the day!
6:00-9:00 Island Wine Showcase and Appetizer Buffet: This event was a big success last year and it's a great opportunity for all of us to taste the state of our industry in the Wine Islands. It will consist of an appetizer buffet supplied by the Ramada Hotel, accompanied by a wide range of local wines – our aim is to offer a selection of 40-50 different wines, all 100% locally sourced, for our attendees and conference speakers to sample. The wines will be grouped into 4-5 stations, each a separate wine category. Cost for the Showcase is only $35 pp (both members and non-members), including all food, wine, tax and gratuity.
We'll have an excellent Suppliers Showcase, displaying their vineyard and winery equipment and services: BosaGrape Winery Supplies, KJ Graphico, Evergro (Crop Protection Services), Vines to Vintages, Zeller & Son, and Island Tractor will all be attending. Please visit and support them if you can.
Speakers:
Hans Buchler – Practicing Organic Vineyard Management
Hans has over 30 years of experience as an organic grower in the Okanagan, was a founding founding member of the Certified Organic Associations of BC, and has been involved in wine-grape research in BC for nearly 20 years. He will present practical solutions for pests, diseases, weed management and soil fertility.
José Ramón Úrbez Torres – Grapevine Trunk Diseases
José is a plant pathology scientist at Summerland Research and Development Centre. Trunk diseases could become a critical issue for growers on the coast, especially those with aging vineyards. José has been studying grapevine trunk diseases in both the Okanagan and in the Wine Islands, and will present practical information on prevention, recognition, and restoration.
Tom Forge – The good, the bad and the ugly: Soil biology in the grapevine rhizosphere and how it can be influenced by organic matter and water management
Tom is also a research scientist in Summerland, specializing in soil biology. We've some excellent talks on soil chemistry in recent conferences – but there is a LOT of microbial life in the soil; some helpful, some harmful. Learn how to encourage the former and suppress the latter!
Alan Marks – The Chemistry of Varietal Wine Aromas
Alan (Scott Labs) has given us some exceptional winemaking talks over the years. Varietal aromas are hugely important in selling our wines. What are the most important ones? Why are they virtually undetectable in our grapes, and how are they liberated during fermentation? How can they be maximized in the vineyard and in winemaking?
Erica Macasso – Oak Barrel Basics and Best Practices
Erica is Cellar-Tek's new winemaking consultant, and will present everything you need to know about oak – physical and chemical characteristics, coopering, how barrels work as maturation vessels, factors in choosing barrels, and their impact on wine.
Thierry Lemaire – Sparkling Wine Production
Thierry, a French-trained winemaker, has consulted wineries across the world, and is the founder of Nuance Winery Supplies in Ontario.
John Volpe – UVIC Research
John will give a short update on the status of his initiative to establish a local viticulture and wine research center at UVIC.
Carl Withler – Ministry of Agriculture
Carl has been a strong advocate for WIGA, and will briefly describe the resources within the Ministry which can contribute value to Wine Islands growers.
Payment:

1. Mail a cheque made out to WIGA, and a list of attendees, to:
WIGA
5824 Kinch Ave.
Duncan, BC
V9L 1K3
If you wish to attend and bring a cheque on the morning of the 16th, please email us at wiga@shaw.ca so we have a good estimate of attendance for the Ramada.
2. Pay by credit card using PayPal below. It's easy and secure – you can specify how many attendees you're registering after clicking the Pay Now button. On the next screen, click the grey Pay with Credit Card button near the bottom.