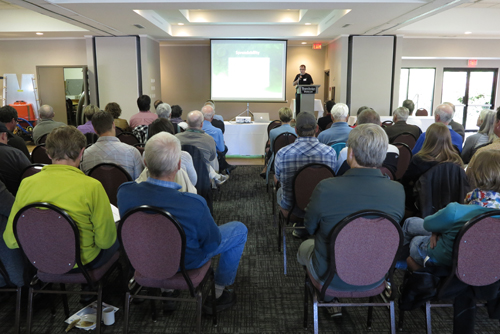 We are pleased to announce the 2018 WIGA Viticulture and Oenology Conference, and Island Wines Showcase, to be held on Wed May 16 at the Ramada Hotel in Duncan
Program:
8:30-4:45 Presentations
4:45-6:00  supplier visiting, and chatting about the day!
6:00-9:00 Island Wine Showcase (see below) and Appetizer Buffet: 
We'll have an excellent Suppliers Showcase, displaying their vineyard and winery equipment and services: BosaGrape Winery Supplies, KJ Graphico, Evergro (Crop Protection Services), Vines to Vintages, Zeller & Son, and Island Tractor will all be attending. Please visit and support them if you can.
Island Wines Showcase
Following the conference, from 6:00 to 9:00, you are invited to stay for the Island Wines Showcase, combining a delicious appetizer buffet prepared by the Ramada with a very wide-ranging selection of wines made from 100% Wine Islands grapes. There will be at least 20 local wineries represented, with their wines arranged by category at tasting stations where you will be served 1-oz pours of your choice. It's a great opportunity for WIGA members to enjoy and discuss the state of our industry – we think you'll agree with us that our Wine Islands growers and wine-makers are continuing to raise the bar! The cost for the Showcase is only $35 pp, which includes food, wine, tax, and gratuity – an excellent value.
If you haven't yet become a 2018 WIGA member, it's easily done – instructions and payment options can be found on our website here.
CONFERENCE DAY: $75 for WIGA Members / $125 for non-members           SUPPLIER DAY TABLE: $50 for WIGA Members / $100 for non-members
Includes lunch, breakfast snacks, and coffee breaks.
ISLAND WINE SHOWCASE:  $35 for everyone
Methods of PAYMENT:
1. Mail a cheque made out to WIGA, and a list of attendees, to:
WIGA
5824 Kinch Ave.
Duncan, BC
V9L 1K3
If you wish to attend and bring a cheque on the morning of the 16th, please email us at wiga@shaw.ca so we have a good estimate of attendance for the Ramada.
2. Pay by credit card using PayPal below. It's easy and secure – you can specify how many attendees you're registering after clicking the Pay Now button. On the next screen, click the grey Pay with Credit Card button near the bottom.