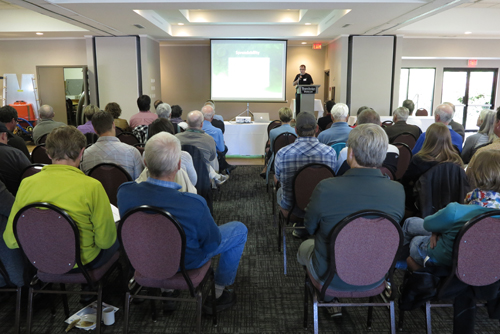 We are pleased to announce the 2019 WIGA Viticulture and Oenology Conference, and Island Wines Showcase, to be held on Wednesday May 15 at the Ramada Hotel in Duncan
All speakers have been confirmed and this year's event promises a valuable and motivating program! You can register for both the conference and the evening Island Wine Showcase at the bottom of this page.  Prices are the same as last year: $75 (WIGA member) or $125 (non-WIGA member) for the day, and $35 (members and non-members) for the Island Wine Showcase. Supplier tables are $50 (WIGA member) or $100 (non-WIGA member). If you haven't yet renewed your WIGA membership, it's easily done on our Membership Info page.
Program:
8:00am – Conference Check-In and Supplier Trade-show 
8:30am – Opening Remarks
VITICULTURE SPEAKERS
8:45am – Elizabeth Wolkivich
9:45am – Lamont Brooks
11:00am – Andy Reynolds
12:00pm – Lunch Provided
OENOLOGY SPEAKERS
12:45pm – Dr. Simone Castellarin
1:30pm – Andy Reynolds
2:45pm – Grant Stanley
3:45pm – Climate Change Panel
4:45pm – Closing Remarks
5:00pm – Trade-show Ends 
6:00pm – 9:00pm – Island Wine Showcase Event
Featuring Local Wines and Canapés
Speakers:
Here are the presenters and topics to date:
Simone D. Castellarin, Ph.D.
Dr. Castellarin is an Associate Professor at the University of British Columbia, and a Tier II Canada Research Chair in Viticulture and Plant Genomics. Dr. Castellarin research focuses on grape production, and how the climate affects grape ripening and quality. In 2009, he received the Rudolf Hermanns Prize (Geisenhem, Germany) for outstanding scientific achievements in horticulture and viticulture.
 How grape quality is affected by environmental factors (temperature and water) and viticultural strategies (irrigation, hormone applications, leaf removal) to improve ripening and the production of phenolics and aromatics in grapes.
Andrew Reynolds
Andy has been conducting research in grapes and wines since MSc studies in 1978. Since 1997 he has been Professor of Viticulture, Brock Univ., St Catharines, ON. Education: B.Sc. (Agr.), horticulture (1978), Univ. of Guelph; M.Sc., plant breeding & genetics (1980), Univ. of Guelph; PhD (1983), Cornell Univ.; thesis: grapevine canopy microclimate in relation to wine quality. Formerly Research Scientist, Agriculture Canada Research Station, Summerland, BC (1983-97). NSERC Research Chair in Viticulture, Cool Climate Oenology & Viticulture Institute (July 1997-2002). Sabbaticals: Washington State Univ. (1994-5), studying impact of yeast strain on flavor of Riesling, and implications of acetic acid for stuck fermentations; RH Philips Winery, Dunnigan Hills, CA (2004-5) studying new irrigation technology. Responsibilities at Brock: research, teaching. Courses: Grapevine Biology, Grapevine Cultural Practices, Plant Physiology, Introduction to Wines, Advanced Wine Flavor (graduate course). Major current research interests: site, soil & their impact upon flavor; aroma chemistry of table wines and icewines, irrigation and water relations; use of geomatics and remote sensing for studying terroir. Publications: >140 in refereed journals. Awards: OIV Award for Best Book in Oenology (2011); ASEV/ES Outstanding Achievement Award (2010); Brock University Faculty Award for Excellence in Teaching (2009). Andy is a frequent speaker at conferences internationally.
Vineyard/water management strategies for irrigated and non-irrigated vineyards in coastal climates (high winter rainfall and summer drought conditions)
Water status and grape physiology: Acid metabolism, aromatic precursors, phenolic ripeness—water deficit timing and its effects on these variables. Wine sensory responses to irrigation practices and vine water status.
Lamont Brooks
Lamont is a Saanich native, growing up on a loganberry farm during the heyday of Logana and other products of Growers Wine Company. After attending UVIC he moved away from the coast for a career in geophysics. Upon returning to Saanich 25 years later, he and his wife Pat planted a vineyard on the family farm in 2004 and became involved in WIGA. In 2012 they opened Symphony Vineyard on Oldfield Road, producing wines made from 100% Saanich grapes. For many years, Lamont had been compiling and summarizing Wine Islands climate data for WIGA growers and winemakers.
The Climes They Are A-Changin' – The Wine Islands in 2050
Elizabeth Wolkivich
Elizabeth is an Associate Professor at the University  of British Columbia, where she runs the Temporal Ecology Lab. Her research focuses on how phenology shapes plants and plant communities.
She is particularly interested in how climate change will affect different winegrape varieties, and how shifting varieties may help growers adapt to warming.  Winegrape projects in her lab draw on collaborations and data from France, Switzerland, New Zealand, California and British Columbia.
How a warming future will reshape winegrape phenology
Grant Stanley
Grant  is a dual citizen of Canada and New Zealand, where he began his career working in the vineyards of Marlborough. Equipped with Winery internships and  diplomas in viticulture and winemaking from Nelson Marlborough Institute of technology he moved to the North island where he became a willing and humble slave to the high priests of Pinot Noir in Martinborough. His A-type personality soon led him to become compulsive, obsessive and devoted to Pinot Noir. In 2003, after 15 vintages with prestigious wineries in New Zealand and Oregon's Willamette valley he was attracted to the incredible potential for growing and making high quality Pinot Noir in the Okanagan Valley. Since moving to the Okanagan Valley  he has become well known for his wine, and dedication to the improvement of growing and making Pinot Noir  through continuous collaboration with fellow winemakers and viticulturists . If you can't find him in the vineyard or winery , he will most likely be on a tennis court .
Extraction in Pinot Noir for Rose and Red Wine Production
Payment:

1. Mail a cheque made out to WIGA, and a list of attendees, to:
WIGA
4512 Lanes Rd
Cowichan Bay, BC
V0R 1N2
If you wish to attend and bring a cheque on the morning of the 15th, please email us at wiga@shaw.ca so we have a good estimate of attendance for the Ramada.
2. Pay by credit card using PayPal below. It's easy and secure – you can specify how many attendees you're registering after clicking the Pay Now button. On the next screen, click the grey Pay with Credit Card button near the bottom.