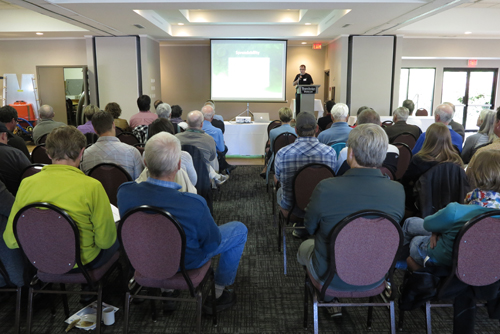 We are pleased to announce the 2022 WIGA Viticulture and Oenology Conference, and Island Wines Showcase, to be held on Sat May 14 at the Ramada Hotel in Duncan
We have an outstanding group of speakers confirmed for conference day, and the biggest Suppliers Showcase we've ever had! You can register for both the conference and the evening Island Wine Showcase at the bottom of this page.  Prices are the same as in previous years: $75 (WIGA member) or $125 (non-WIGA member) for the day, which includes a lunch buffet, and $35 (members and non-members) for the Island Wines Showcase. If you haven't yet renewed your WIGA membership, it's easily done on our Membership Info page. Supplier tables are $100 ($50 for WIGA supplier members), waived for sponsors. This page will be updated regularly as we finalize the program.
Program (see a detailed schedule in this pdf file)
8:00-8:30 Registration and Coffee
8:30-4:45 Presentations including a lunch buffet
4:45-6:00  supplier visiting, and chatting about the day
6:00-9:00 Island Wine Showcase and Appetizer Buffet: This event is a great opportunity for all of us to taste the state of our industry in the Wine Islands. It will consist of an appetizer buffet supplied by the Ramada Hotel, accompanied by a wide range of local wines. Cost for the Showcase is only $35 pp (both members and non-members), including all food, wine, tax and gratuity.
We'll have an excellent Suppliers Showcase, displaying their vineyard and winery equipment and services. Suppliers attending include BosaGrape, Nutrien, TerraLink, CellarTek, Growers Supply, Munckhof, Vines to Vintages, Rollins Machinery, Peak HydroMet, Island Tractor, Zeller & Sons, and Nuance. Please visit and support them during the conference!
Speakers:
Wendy McFadden-Smith, Horticulture IPM Specialist, Ontario Ministry of Agriculture
"How not to get Bot: Optimal Control of Botrytis for Conventional and Organic Grape Growers"
Dr. Thorsten Knipfer, UBC Faculty of Land and Food Systems
"Grapevine Roots and Water Stress"
Dr. Kevin Usher, Research Scientist, Summerland Research & Development Centre
"Vineyard Nitrogen Management to Improve Grape and Wine Quality"
Tracy Hueppelsheuser, BC Ministry of Agriculture, Food and Fisheries, Abbotsford
"Phylloxera in the Wine Islands – an Update"
Dr. Alan Marks, Technical Sales & Support, Scott Labs
"The Dirt on Bentonite: Techniques to Maximize Effectiveness and Minimize Usage Rates"
" Early Winemaking Steps to Avoid Future Problems"
Blandine Cauchy-Alvin, Provence Region Winemaking Consultant
"What are the margins action in terms of color and aromatic profile on Rosé wines"
Rod Phillips, Host of 'Dork Uncorked' on CFAX, co-founder of Liquify
"Headwinds, Tailwinds & Causation in Today's BC Liquor Trade"
Payment:

1.
Mail a cheque made out to WIGA, and a list of attendees, to:
WIGA
4512 Lanes Road
Cowichan Bay, BC
V0R 1N2
If you wish to attend and bring a cheque on the morning of the 16th, please email us at wiga@shaw.ca as we need final numbers for the Ramada by Monday May 9.
2. Pay by credit card using PayPal below. It's easy and secure – you can specify how many attendees you're registering after clicking the Pay Now button. On the next screen, click the grey Pay with Credit Card button near the bottom.