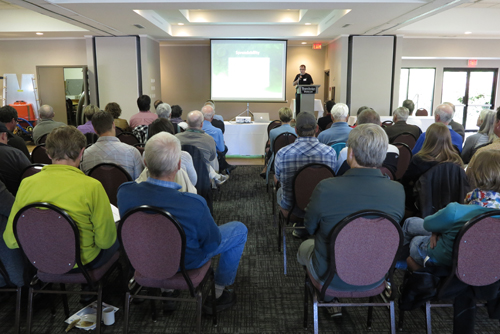 We are pleased to announce the 2017 WIGA Viticulture and Oenology Conference, and Island Wines Showcase, to be held on Tuesday April 25 at the Ramada Hotel in Duncan
We have four very strong speakers for our 2017 conference – click 2017 Conference Speakers Bios to read their backgrounds.
Program and Schedule:
8:00-8:30 arrival & registration, coffee & muffins
8:30-9:30 Stephen Eng (P.Ag., Specialty Ag Division Manager, Evergro) will present "An Essential Guide for Understanding Soil and Plant Nutrition in the Vineyard"
9:30-10:30 Simone Castellarin (Ph.D, Canada Research Chair in Viticulture & Plant Genomics, UBC) will present "Hormonal, Molecular, and Canopy Management Control of Fruit Ripening"
10:30-11:00 coffee break and supplier visiting
11:00-12:00 Jim Harbertson (Ph.D, Washington State University Associate Professor and Extension Enologist) and Simone Castellarin will present  "Impact of Irrigation on Fruit Ripening and Composition" and "Ripening and Sensory Impacts of Regulated Deficit Irrigation"
12:00-1:30 Lunch Buffet: chef's choice soup, green salad with house-made dressings, house-made potato salad, assorted artisan sandwiches, assorted dessert squares and cookies, fresh coffee and tea
1:30-2:30 Alan Marks (Ph.D, Technical Sales, Scott Laboratories) will present "Using New Research Ideas for Successful Malolactic Fermentations"
2:30-2:45 short coffee break
2:45-3:45 Jim Harbertson returns to present "Wine Phenolics – How They Change during Ripening, Winemaking, and Aging"
3:45-4:45 Alan Marks returns to present "Haze Wars: Filtering and Fining Techniques"
4:45-6:00  supplier visiting, and chatting about the day!
6:00-9:00 Island Wine Showcase (see below) and Appetizer Buffet: Thai Beef Skewers, Thai Chicken Skewers, Mini Vegetarian Quiche, Spinach and Goat Cheese Quiche Tarts, Curried Lamb Meatballs, Potato Croquette, Smoked Pork Tenderloin Crostini, Mini Crab Cakes, Grilled Brie and Mushroom Sticks, Beef and Blue Crostini, Vegetarian Cucumber Canapes, Ham and Swiss Quiche Tarts, Dessert Squares
We'll have an excellent Suppliers Showcase, displaying their vineyard and winery equipment and services: BosaGrape Winery Supplies, KJ Graphico, Evergro (Crop Protection Services), Vines to Vintages, Zeller & Son, and Island Tractor will all be attending. Please visit and support them if you can.
Island Wines Showcase
Following the conference, you are invited to stay for the Island Wines Showcase, combining a delicious appetizer buffet prepared by the Ramada with a very wide-ranging selection of wines made from 100% Wine Islands grapes. Our goal is to have at least 20 local wineries represented, with their wines arranged by category at tasting stations where you will be served 1-oz pours of your choice. It's a great opportunity for WIGA members to enjoy and discuss the state of our industry – we think you'll agree with us that our Wine Islands growers and wine-makers are continuing to raise the bar! The cost for the Showcase is only $35 pp, which includes food, wine, tax, and gratuity – an excellent value.
If you haven't yet become a 2017 WIGA member, it's easily done – instructions and payment options can be found on our website here.
WHEN:
Tue April 25th. Conference 8:00am – 5:00pm  Island Wines Showcase 6:00pm – 9:00pm
WHERE:
Ramada Hotel in Duncan (140 Trans Canada Hwy)
CONFERENCE DAY: $75 for WIGA Members / $125 for non-members           SUPPLIER DAY TABLE: $50 for WIGA Members / $100 for non-members
Includes lunch, breakfast snacks, and coffee breaks.
ISLAND WINE SHOWCASE:  $35 for everyone
Methods of PAYMENT:
1. Mail a cheque made out to WIGA, and a list of attendees, to:
WIGA
4795 Timber Pl.
Victoria, BC
V8Y 2L6
If you wish to attend and bring a cheque on the morning of the 25th, please email us at wiga@shaw.ca so we have a good estimate of attendance for the Ramada.
2. Pay by credit card using PayPal below. It's easy and secure – you can specify how many attendees you're registering after clicking the Pay Now button. On the next screen, click the grey Pay with Credit Card button near the bottom.